Chips & Salsa

Fresh fried corn tortilla chips and housemade salsa. 7.00   Add guacamole​ 3.50
Charcuterie Board
A seasonal selection of two artisan cheeses, three cured meats, fresh fruit, whole grain mustard, housemade pesto & crackers 24.00
Housemade Mozzarella Sticks
Fresh mozzarella, hand breaded and deep fried and served with marinara 10.50
Chatter Eggs
6 halved deviled eggs, topped with sweet chili sauce & fresh chives 8.50
Bacon Wrapped Dates
Dates stuffed with Mascarpone, ricotta and honey, served on a bed of arugula and drizzled with a balsamic glaze 12.00 add Housemade Blue Cheese Dressing .50
Hummus
Housemade garlic, roasted red pepper or pesto hummus served with warm pita chips and veggies   Individual 10.50   3 for 17.50
Fried Calamari
Served with Tequila Lime cocktail sauce and a creamy lemon dill sauce 18.00
Truffle Fries
Hand cut fries tossed in a garlic oil, topped with shredded parmesan cheese, fresh herbs and drizzled with truffle oil. Served with truffle aioli 9.25
Loaded Fries
Hand cut fries topped with creamy gouda sauce, bacon crumbles, tomatoes, green onions and shredded gouda cheese
Half Order 7.50 | Full Order 12.50
Tequila Lime Shrimp Cocktail
12 shrimp (6 jumbo and 6 tail off) swimming in the best housemade cocktail sauce 21.50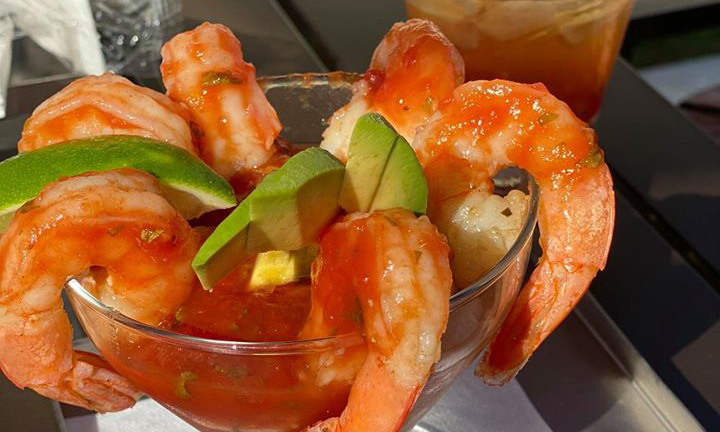 Big Nachos
Corn tortilla chips loaded with a 3 cheese blend, lettuce, pico de gallo, sliced jalapeños, sour cream, and guacamole. Served with red salsa.  14.00
Add Chicken 5.00 | Seasoned Ground Beef  5.75 | Sirloin 6.25
Chef Juan's Famous Reuben Egg Rolls
Three hand rolled deep-fried rolls stuffed with shaved corned beef, sauerkraut and Swiss cheese, with thousand island sauce for dipping! 18.00
Housemade Soup 
Bowl 5.50 | Quart 14.00 to go only
Ask your server for today's selection
House Salad
Crisp spring mix topped with red peppers, tomatoes, cucumbers, onions and Gouda cheese.
Choice of Ranch, Blue Cheese or Balsamic Dressing 10.50
Add Chicken 5.00 | Sirloin 6.25 | Spicy Shrimp 7.50
Pan Seared Salmon 9.25
The Wedge
Huge iceberg wedge topped with tomatoes, bacon, red onions, and blue cheese crumbles 10.75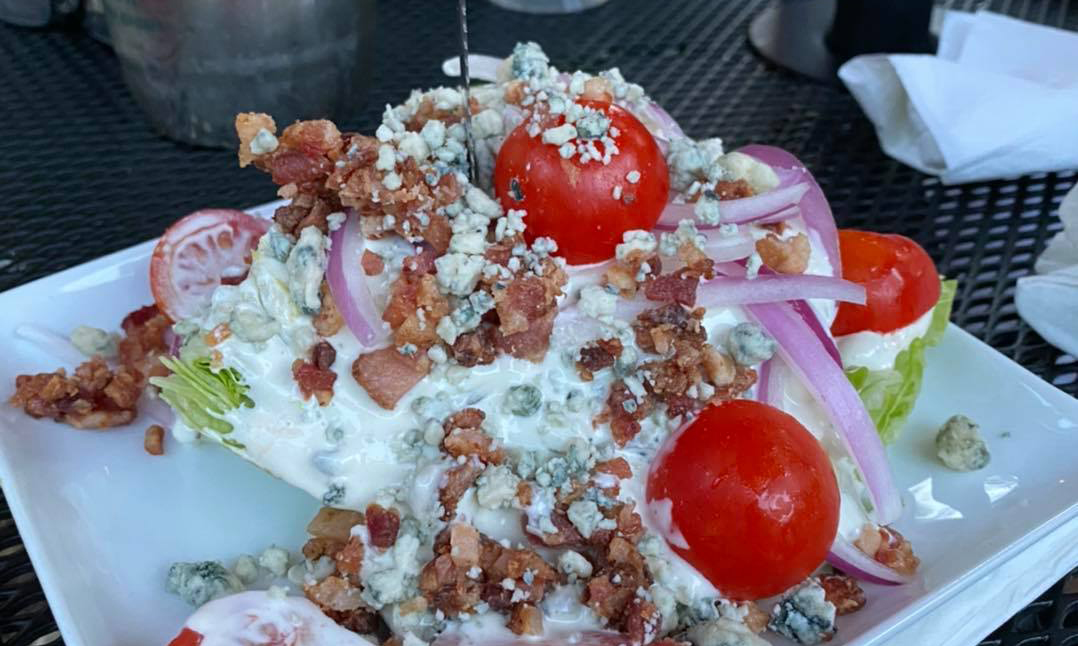 Roasted Tomato
Herb roasted Roma Tomatoes with roasted garlic, mozzarella and topped with fresh basil 13.75
Roasted Vegetable
Caramelized onions, sautéed mushroom medley, roasted zucchini, red peppers, balsamic reduction, Boursin and Parmesan cheeses 15.75
BBQ Pork
Slow cooked pork, tangy BBQ sauce, thinly sliced red onions, pineapple and smoked gouda cheese 16.50
Italian
Housemade sausage, marinara, cherry peppers, oregano and mozzarella cheese 16.25
Asada
Flank steak marinated in chimichurri, poblano pepper, guacamole, pico de gallo and lemon sriracha aioli 5.75
Spicy Shrimp
Shrimp sautéed in adobe chili sauce, cabbage slaw, pico de gallo, guacamole and cumin crema 6.25
Cajun Chicken
Blackened grilled chicken, shredded cheddar cheese, lettuce, pico de gallo and lemon sriracha aioli 5.25
Baja
Beer battered cod, cilantro cabbage slaw, guacamole, pico de gallo and lemon sriracha aioli 6.00
Fresh or Fried Avocado
Sliced avocado with cilantro cabbage slaw, pico de gallo and lemon sriracha aioli 5.00
Wings
1 lb. wings with celery, and ranch or blue cheese dressing
Available regular or breaded
Choose from: Buffalo, Sweet Chili, BBQ, Sticky & Spicy, or Golden Whiskey 15.00   Breaded Wings Add .50
Extra Dressing Add .50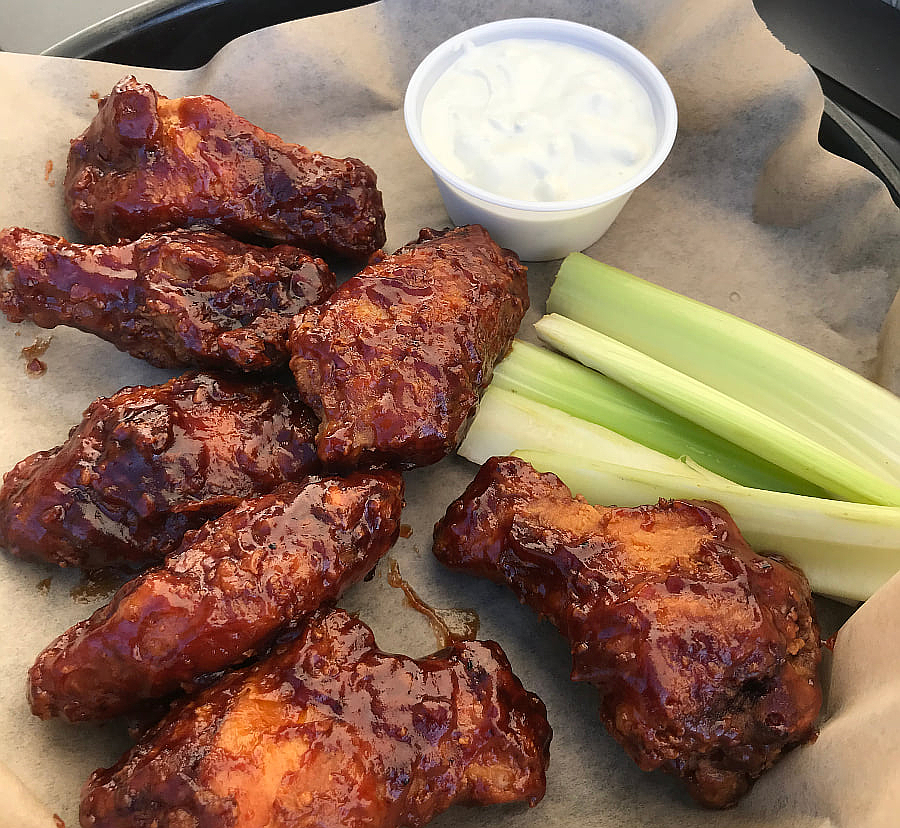 Cheeseburger
Topped with cheddar cheese, garlic aioli, and a vienna pickle slice on a buttery bun 5.75
​Sirloin
Seared sirloin with a creamy horseradish sauce and Havarti cheese on a baguette​ 6.25
BBQ Pork
Slow cooked pork tossed in tangy BBQ sauce with a slice of grilled pineapple on a pretzel bun 5.00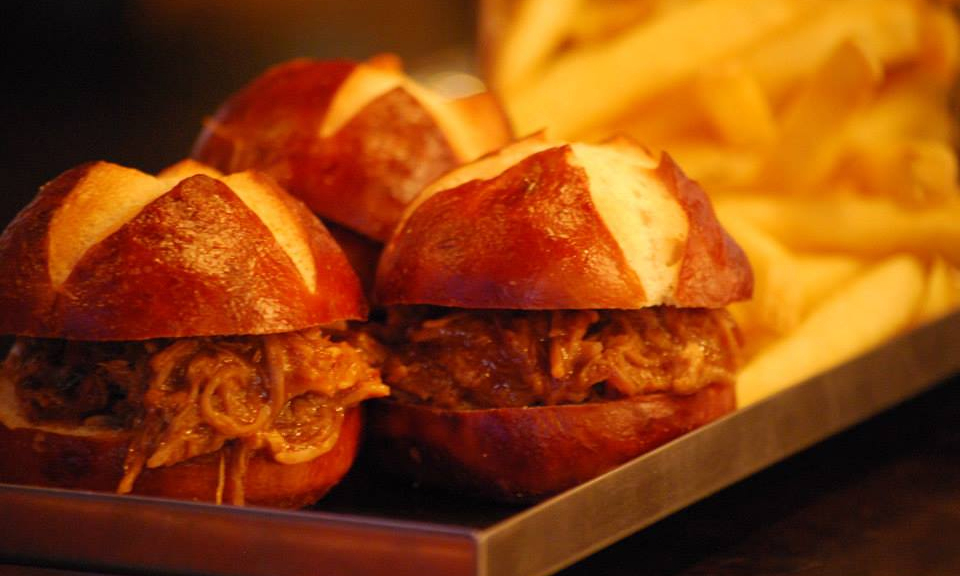 SANDWICHES & BURGERS
Served with choice of hand cut fries, fresh veggies, potato salad, coleslaw, or side salad.
Substitute Loaded Fries 2.50 | Truffle Fries 3.00
Southwest Turkey Burger
Hand packed turkey burger infused with roasted red peppers, corn, and black beans. Topped with chipotle mayo, avocado and frisee on a toasted bun 16.00
Beehive Cheddar Burger
8 oz. hand packed burger topped with Beehive Big John's Cajun Cheddar, bacon jam, lettuce, tomato, onions, and a pickle spear on a brioche bun 16.75
Black Bean Burger
Infused with red onions, jalapenos, and cilantro over a bed of frisee, topped with pico de gallo and spicy avocado puree on a toasted bun 15.50
Chicken Sandwich
Grilled or breaded chicken breast with melted pepper jack and creamy basil aioli, frisee, red onion, and tomatoes on a toasted bun 15.50
Buffalo Chicken Sandwich
Breaded chicken breast tossed in tangy buffalo sauce, blue cheese crumbles and a drizzle of ranch. Topped with lettuce, tomato, and onion on a toasted bun 15.00
Prime Rib Sliders
Slow cooked shaved prime rib piled on fluffy buns with melted mozzarella, caramelized onions, and creamy horseradish sauce. Served with au jus​​ 19.00
Shrimp Po Boy
Breaded Cajun Shrimp with a remoulade, lettuce and tomato on top of a French Roll. Served with a side of cajun coleslaw 16.00
Entrees
BBQ Ribs
Full Slab of fall of the bone pork ribs with tangy, rich BBQ sauce. Served with cornbread sticks and your choice of two sides: Baked Beans, Coleslaw, or Corn on the Cob
Full Slab 26.00  Two Slabs 39.00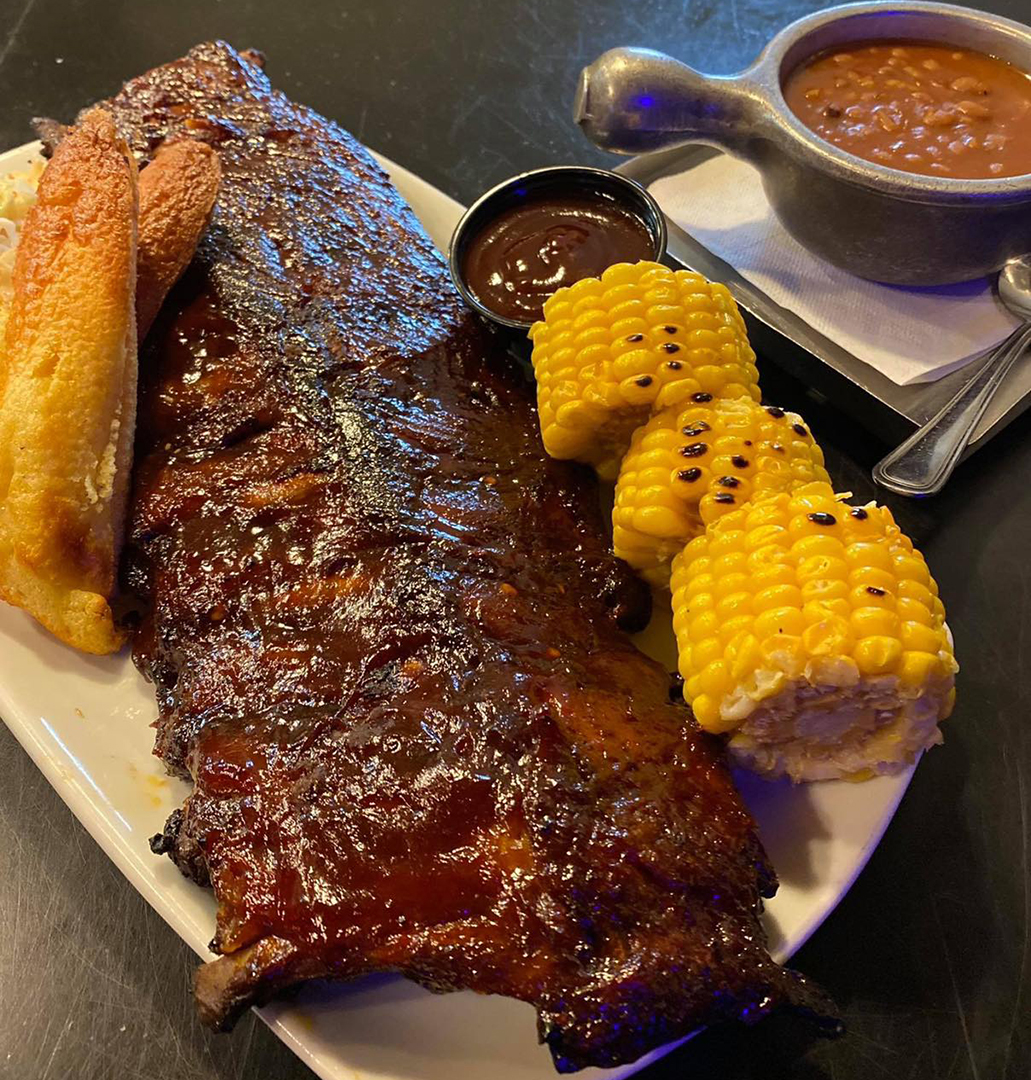 Salmon
Pan seared salmon drizzled with a Lemon Beurre Blanc, served with oven roasted brussel sprouts and garlic mashed potatoes 22.00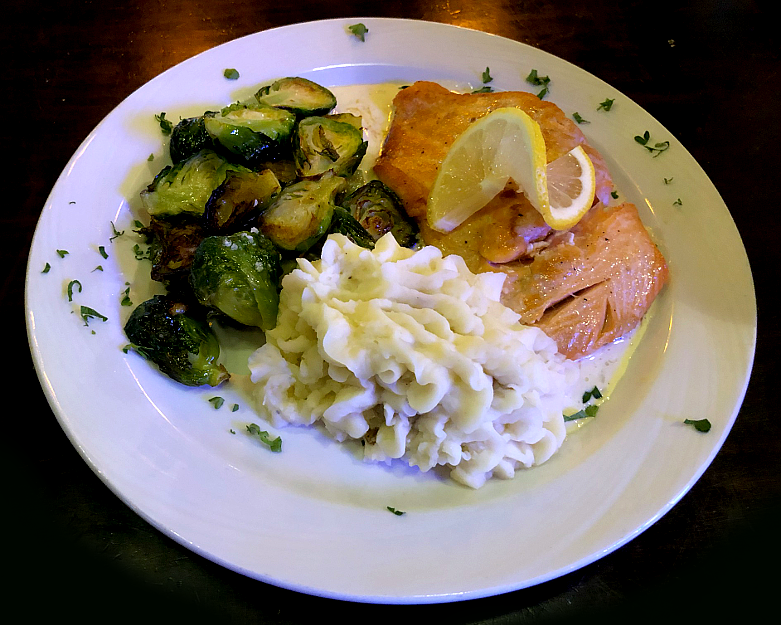 Fish & Chips
Beer battered Cod served with tequila lime cocktail and lemon dill tartar sauces. Served with housemade chips or hand cut fries 19.25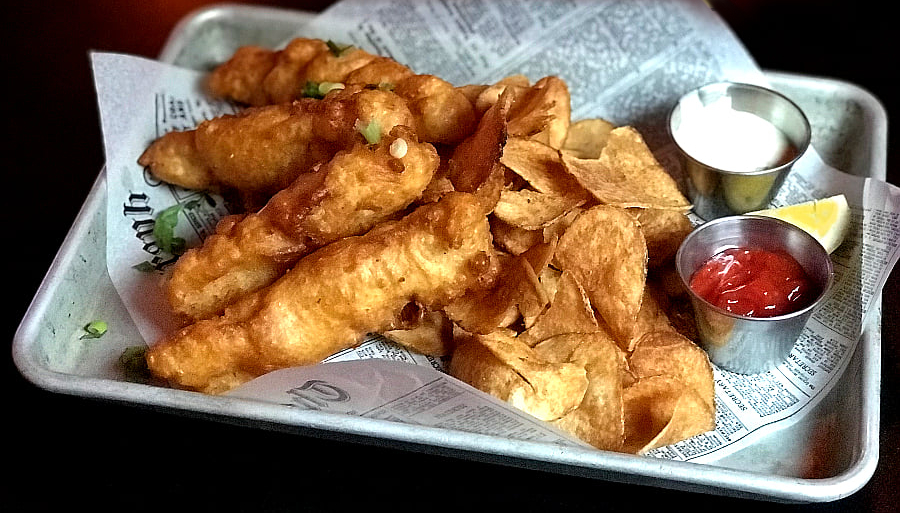 Chicken Enchiladas
Slow cooked shredded chicken hand rolled in corn tortillas and topped with Chihuahua cheese, green tomatillo sauce, sour cream and pico de gallo. Served with Spanish rice and refried beans 18.00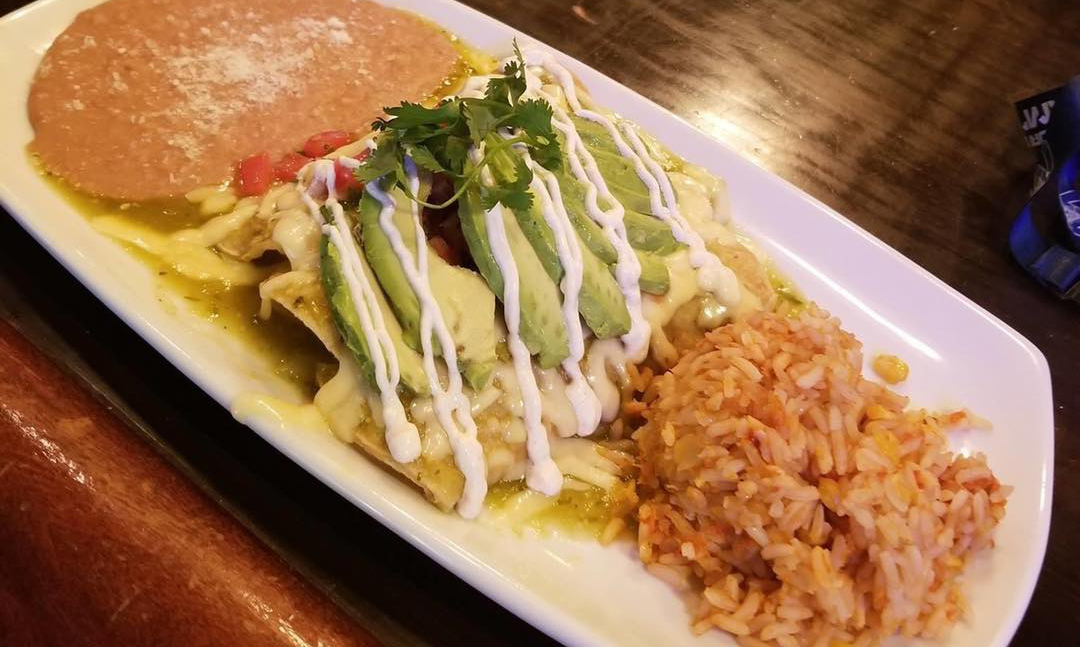 Grilled Cheese Quesadilla
(no side included)
Huge Flour tortilla filled with pepper jack cheese and roasted red peppers. Served with lettuce, pico de gallo, sour cream, guacamole and red salsa 10.50
Add Chicken 5.00 | Ground Beef 6.00 | Steak 6.75 | Grilled Shrimp 7.50

SIDES
Hand Cut Fries 4.50, Housemade Chips 4.50, Fresh Veggies 5.50, Potato Salad 3.50, Coleslaw 3.50, Side Salad 6.00
BEVERAGES
Coke, Diet Coke, Sprite, Sprite Zero, Ginger Ale, Lemonade 3.50
Fresh Brewed Iced Tea, Hot Tea 3.75
San Pellegrino
Original Sparkling, Orange or Limonata 4.00
Juices
Cranberry, Apple, Orange, Pineapple, Grapefruit 3.50
Entrees
(includes 1 side and 1 drink)
Mini Cheeseburger 7.99
Chicken Nuggies 7.99
Cheesy Pizza Pita 7.99
Three Cheese Grilled Cheese 7.99
Buttered Noodles 7.99
Mac n' Cheese 7.99
Sides
French Fries, Tater Tots, Potato Chips, Celery & Baby Carrots with ranch dip, Red & Green Grapes
Drinks
Lemonade, Apple Juice, Soft Drinks, Milk/Chocolate Milk, Water.